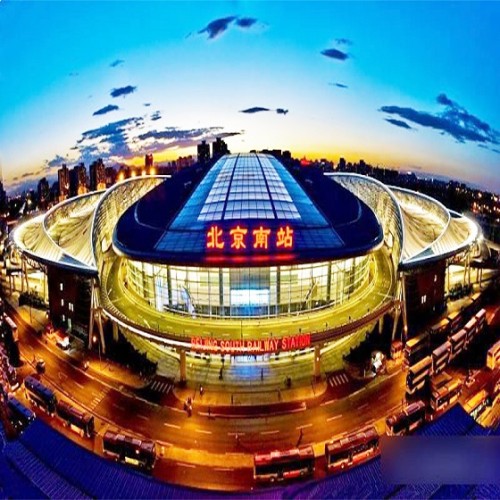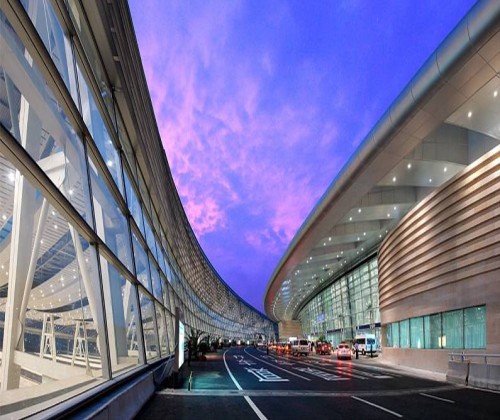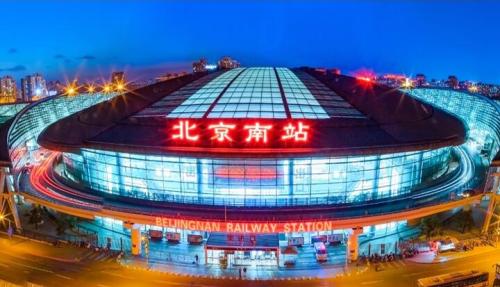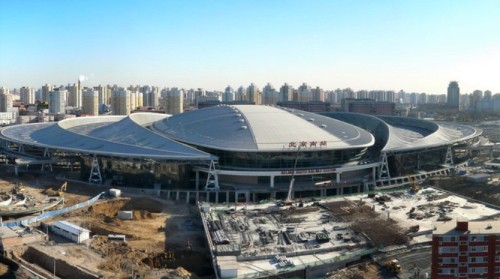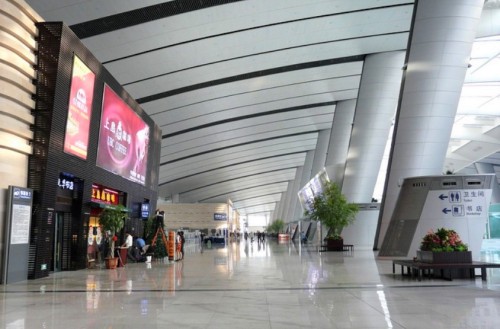 Prefabricated Steel Structure For Railway Station Platform
Description
Project Name:Beijing South Railway Station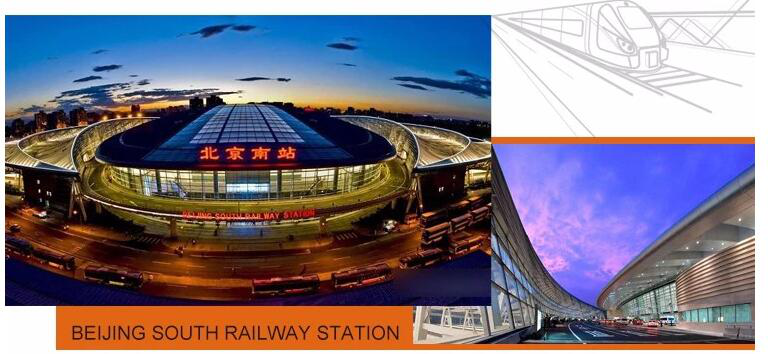 The station of Beijing South Railway Station is a hyperbolic dome with a high elevation of 40.0 meters and a height of 20.0 meters. The canopy on both sides is 31.5 meters high and the height of the cornice is 16.5 meters. The ground part has a long axis of 500 meters and a short axis of 350 meters; the underground part has a long axis of 397.1 meters and a short axis of 332.60 meters. The two wings of the ground along the long axis are transparent awnings for each three-span steel structure. The middle station is an elliptical tall building with two floors above ground and three underground floors.
From the top to the bottom, Beijing South Railway Station is: steel structure roof layer; ground elevated shelter floor; ground floor is the exit platform of the train station; the central base is the transfer area, the two sides are garage; the second floor is Metro Line 4; the third basement is Metro Line 14. The new Beijing South Railway Station, which combines beautiful shape and advanced functions, fully realizes three-dimensional traffic.
The feature of the steel structure train station:

1. Steel structure is lighter in weight
2. High reliability of prefab steel structure work
3. The steel is resistant to vibration and impact resistance
4. The degree of industrialization of steel structure manufacturing is relatively high
5. Prefabricated Steel structure can be assembled accurately and quickly
6. Large steel room interior space
7. Easy to make a sealed structure
8. Steel structure is easy to corrode
9. Steel structure can be recycled
10. Steel structure building has a short construction period
| | | | |
| --- | --- | --- | --- |
| Item name | Specification | Material Parameter | Technical Treatment |
| Column | H shape,Box,steel pipe,Hot rolled sheet | Q235B,Q345B | Paint or Hot dip galvanized |
| Beam | H shape,steel Truss,Hot rolled sheet | Q235B,Q345B | Paint or Hot dip galvanized |
| Bracing | Steel rod,Steel pipe,Angle steel | Q235B,Q345B | |
| Purling | C or Z shape, purling Thickness:1.8mm~3.0mm | Q235B,Q346B | Hot dip galvanized |
| Wall and roof panel | EPS,Rock wool,Pu,Glass wool Sandwich panel or Single sheet. | Steel T=0.426~0.8mm,insulation T=50~150mm | Alu-zinc 150g, Fluorocarbon paint |
| Door | Sliding or rolling door | Steel or Aluminum sheet,T=1.0~1.5mm | Paint or Hot dip galvanized |
| Window | alloy-Glass,Aluminium alloy-shutter | T=1.0~2.0mm | Alloy |
| Lighting panel | FRP, T=1.5mm or T=1.8mm | Coefficient of thermal expansion:2.2x10-5/cm/cm/℃ | Light transmittance 85% |
| Ventilator | Turbine ventilator, and electric type | Steel,stainless steel,PC | Paint or Hot dip galvanized,304 |
| Gutter | Galvanized or stainless steel plate | T=2.0mm | Hot dip galvanized,304 |
| Downpipe | PVC pipe,Color steel pipe T=0.5mm | Φ110,160,200 | Paint |
| Bolt | Ordinary, high strength | 10.9S,4.8s | Hot dip galvanized |
| Anchor bolt | Steel rod M24,M27 M30 | Q235B | |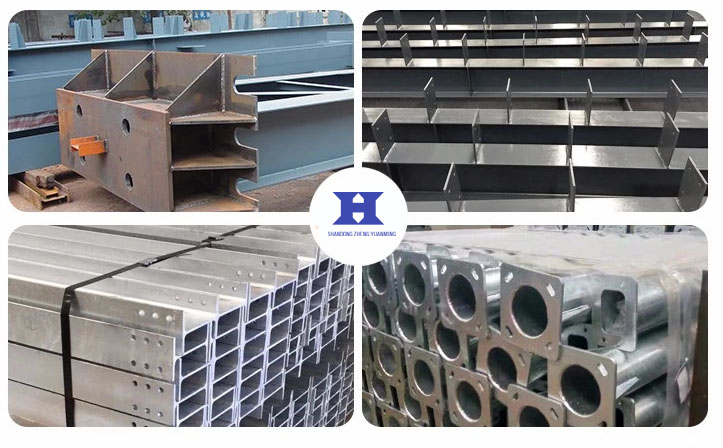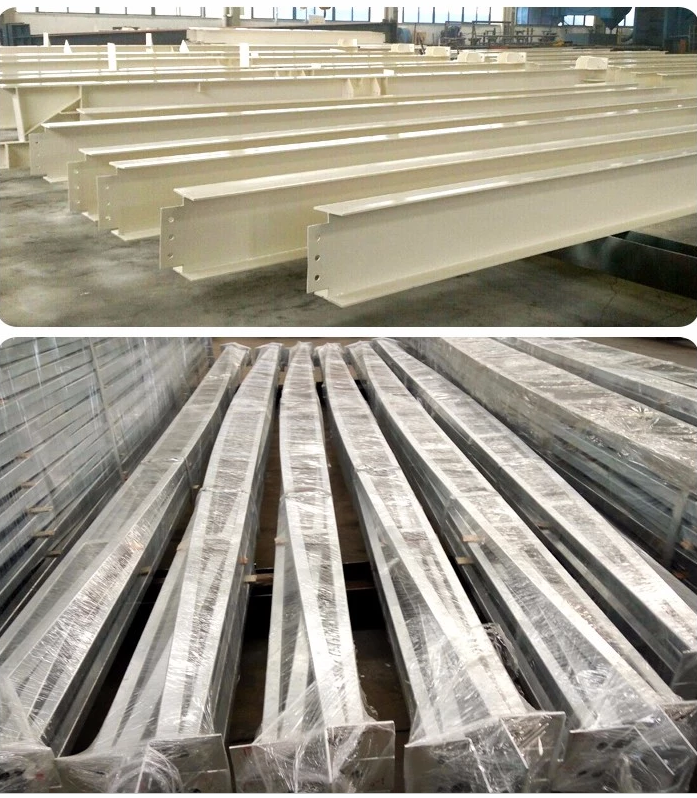 We are different with full production system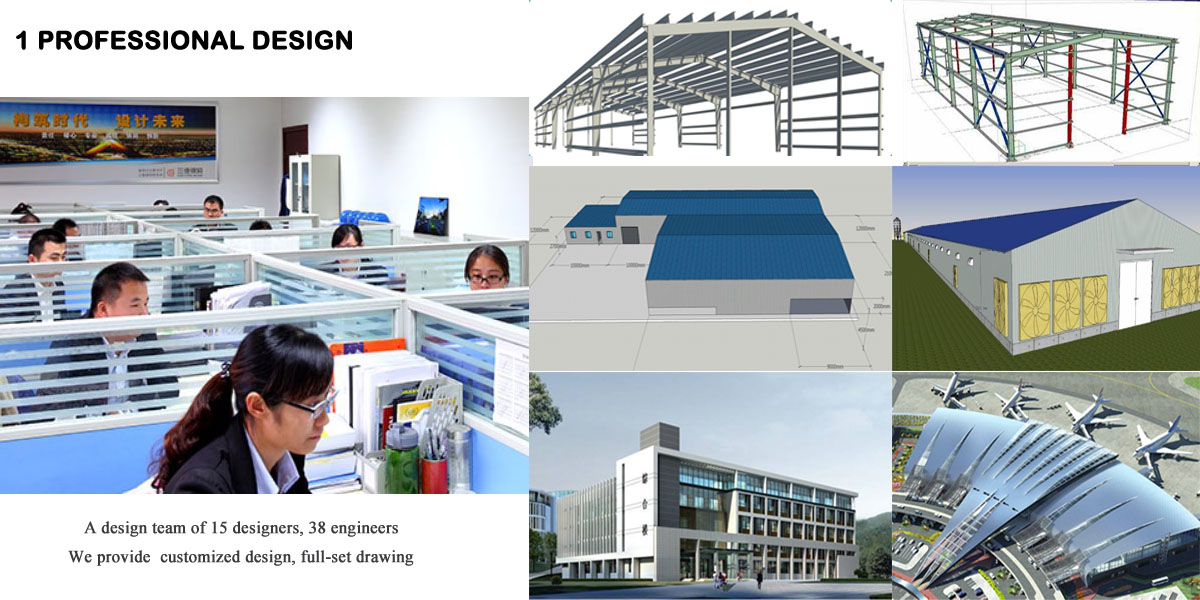 Steel structure design is an important part of the whole steel structure construction. According to the Standard for Classification of Steel Structures,our steel building design is technologically advanced, economically,reasonable, safe and practical, and ensure quality.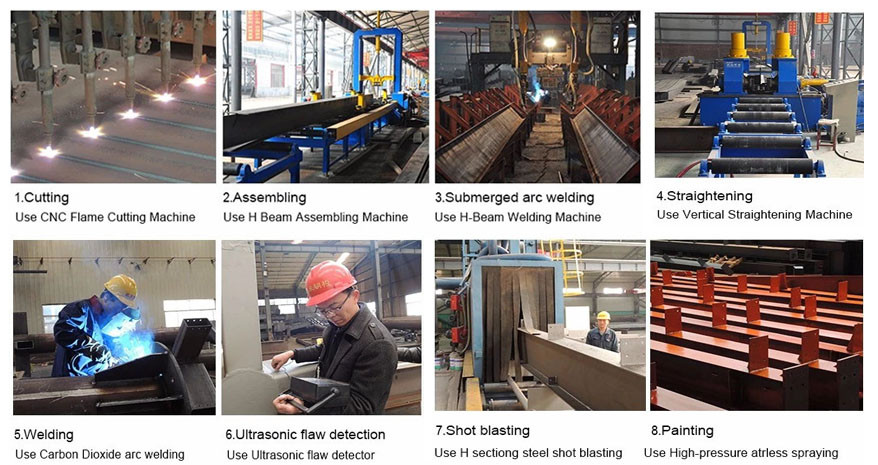 Now we has 3 heavy steel production lines,2 light steel structure manufacturing lines. We has a complete production system of main steel structure,sub steel structure, purlin,structural accessories.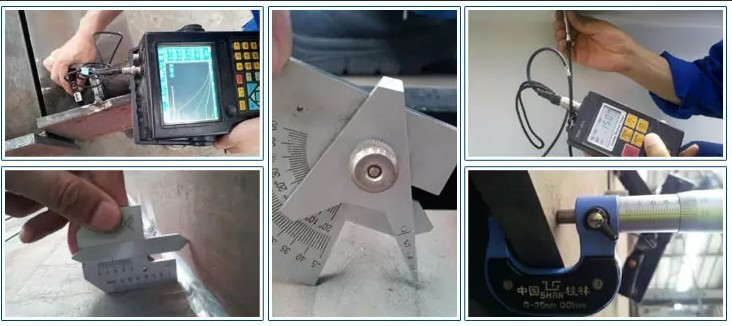 Strictly Quality Control
In the process of designing, manufacturing and installing steel structures, we must insist the most strictly sepcification of steel structure ,and make the procuct perfect .
Steel grade

GB/T 700-2006 Carbon Structural Steel Q235B(S235JR SS400 A36)

GB/T1591-2008 High Strength Low alloy

Structural Steel Q345B(S355N,A50)

Profile

H beam GB/T11263-2010

Tube GB/T 6728-2002

Plate GB/T708.709

Angle GB/T706-2008

Fabrication&Finish

Fabrication GB50205-2001

HOT-galvanization GB/T13912-2002(ISO1461:1999)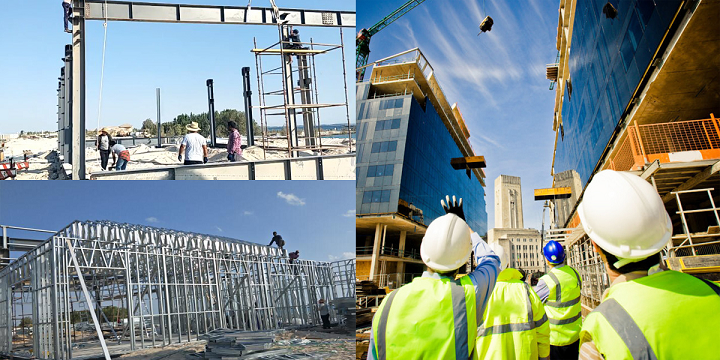 The steel structure building team has more than 20 senior project managers and registered construction engineers .The project manager responsibility system makes the steel structure perfect.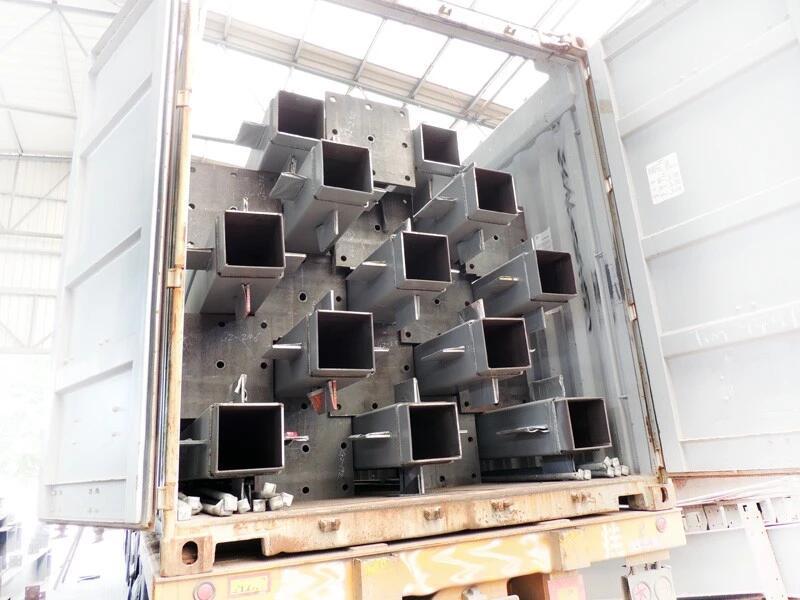 | | |
| --- | --- |
| Size | 11.8(L) * 2.13 (W) * 2.72 (H) |
| Weight | 24T |
| Packaging Details | all of the steel structure columns and the beams ends will be packed by the blanket to protect them from the collision during the shipping in the container. |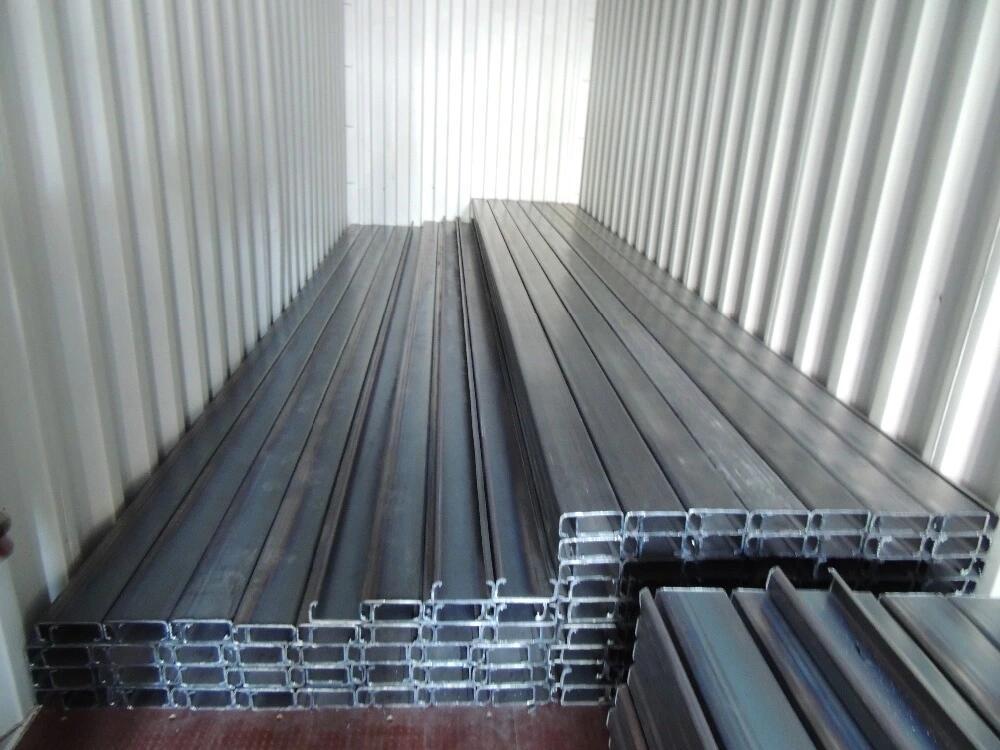 | | |
| --- | --- |
| Size | 11.8(L) * 2.13 (W) * 2.72 (H) |
| Weight | 24T |
| Packaging Details | all of the purlin ends will be packed by the blanket to protect them from the collision during the shipping in the container. |